Biden denies reality when Peter Doocy confronts him about trailing Donald Trump in key battleground states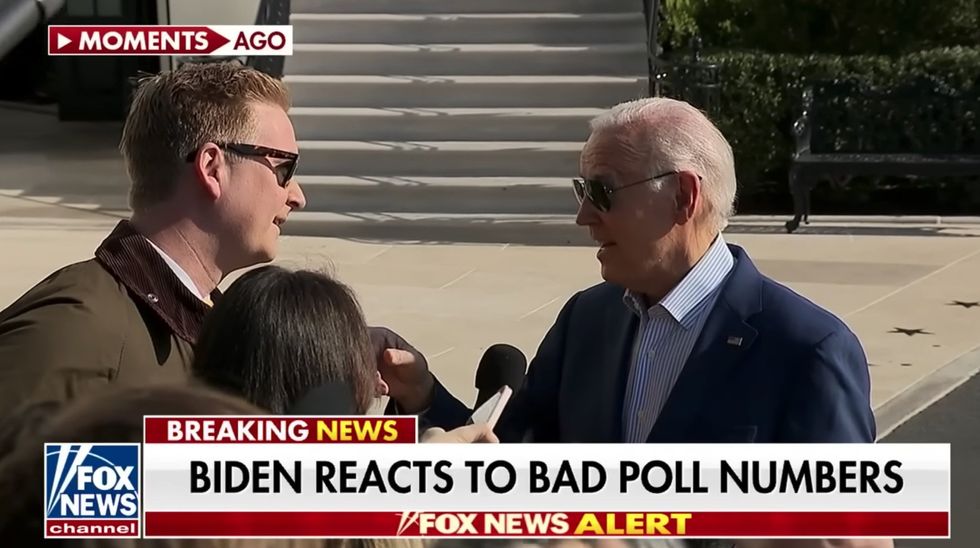 Fox News correspondent Peter Doocy confronted President Joe Biden on Thursday over his abysmal polling in battleground states.
Before boarding Marine One on the South Lawn of the White House, the president walked toward a gaggle of reporters and joked with Doocy. As the Fox News reporter was asking his first question, Biden interrupted him, saying, "Why do you think it is I always take your question?"
"It's a good one. I've got two good ones," Doocy fired back.
At first, Doocy pressed the president on his age and abortion, issues Biden quickly pushed aside. And then Doocy confronted Biden about new polling data that dampens Biden's re-election hopes.
"Why do you think it is that you're trailing Trump in all these swing-state polls?" Doocy asked.
"Because you don't read the polls," Biden responded. "Ten polls. Eight of them, I'm beating him in those places. Eight of them. You guys only do two. CNN and New York Times. Check it out. Check it out. We'll get you a copy of all those other polls."
It's not clear to which polls Biden was referring. But a nearby reporter quickly pounced on Biden's claim.
"You don't believe you're trailing in battleground states?" that reporter asked.
"No, I don't," Biden confirmed.
Peter Doocy confronts Biden face-to-face on age concerns, dismal pollingwww.youtube.com
Unfortunately for Biden, it's simply not true that he is not trailing in key battleground states.
In fact, the latest New York Times poll surveying six key battleground states — Arizona, Georgia, Michigan, Nevada, Pennsylvania, and Wisconsin — sent shock waves through the Democratic Party precisely because it showed Biden is trailing former President Donald Trump in five of those six states.
Those states are particularly important for Biden in 2024 because he won them in 2020. If he loses them next year, he likely loses re-election.
Recent polls by Morning Consult and Emerson College conducted this month corroborated Trump's lead in most battleground states that both candidates need to win the White House.
Like Blaze News? Bypass the censors, sign up for our newsletters, and get stories like this direct to your inbox. Sign up here!