CNN's Jim Acosta celebrates five-year anniversary of viral confrontation with Trump that cost him press pass
Left-wing CNN host Jim Acosta has shared an Instagram post celebrating the five-year anniversary of his viral confrontation with former President Trump.
On Monday, the CNN chief domestic correspondent shared a picture of the moment he refused to give up his microphone to a female White House aide, alongside the caption "Five years ago." Acosta became infamous for his bombastic questions as the White House correspondent at the time and became a folk hero to liberals for his sparring with Trump.
During a November 2018 news conference after Democrats had won back the House of Representatives in that year's midterms, Acosta got into a heated debate with Trump when he asked the president about a large migrant caravan heading toward the United States.
"Honestly, I think you should let me run the country and you run CNN," Trump told Acosta, at one point calling the reporter a "rude, terrible person."
CNN'S JIM ACOSTA: I STILL HAVE 'MARKS ON MY BACK' FROM STANDING UP TO TRUMP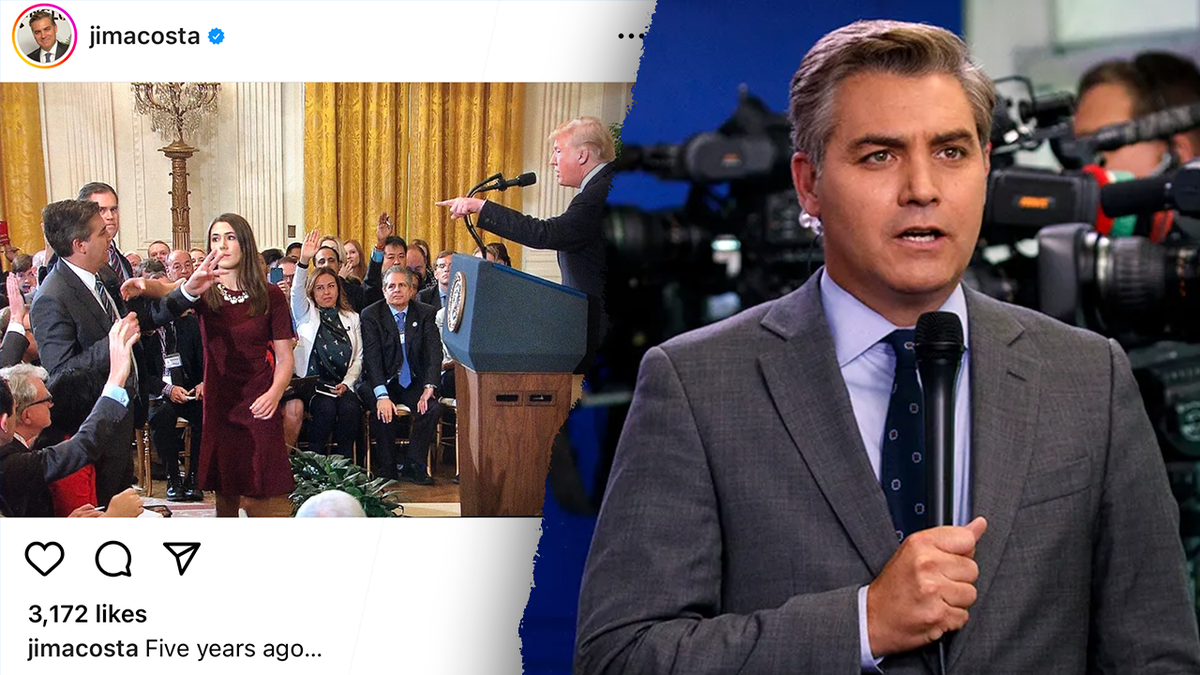 Acosta tried to ask the president another question when a White House aid walked over to him and attempted to take the microphone away.
"That's enough," Trump said.
Acosta continued to try to talk as the aide was seen trying to take the microphone from his hand. She grabbed the microphone, but Acosta wouldn't give it up and there was brief contact between the two.
"Excuse me, ma'am," Acosta told the aide as he continued his question. The aide then kneeled next to Acosta to wait for him to finish speaking.
Acosta then tried to ask Trump about the Russian investigation, which the president called "a hoax."
Trump again told Acosta to put down the microphone. The aide was then able to take the microphone from Acosta and give it to NBC News correspondent Peter Alexander.
Two days later, Acosta's press pass to access White House briefings was suspended "until further notice."
CNN'S JIM ACOSTA ROASTED FOR WEARING 'OBNOXIOUS SELF-FLATTERING' SHIRT DURING CORONAVIRUS VACCINE PHOTO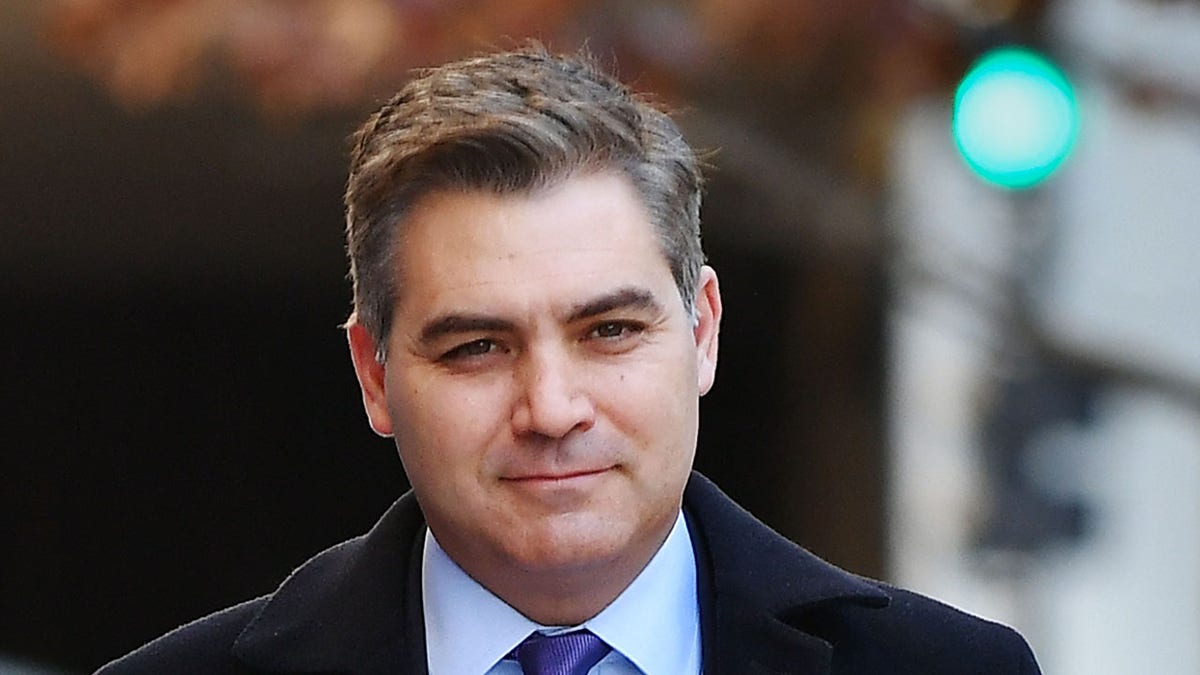 "I've just been denied entrance to the WH," Acosta said at the time. "Secret Service just informed me I cannot enter the WH grounds for my 8pm hit."
CNN would later claim that Acosta's suspension was "retaliation for his challenging questions" and claimed that then-White House press secretary Sarah Sanders had "lied" about her description of what had transpired.
"She provided fraudulent accusations and cited an incident that never happened," CNN added. "This unprecedented decision is a threat to our democracy and the country deserves better. Jim Acosta has our full support."
A U.S. District Judge eventually restored his press pass. Afterward, Sanders implemented a series of rules, including "journalist called upon to ask a question will ask a single question and then will yield the floor to other journalists."
CNN'S JIM ACOSTA'S SOBER COVERAGE OF BLUE-STATE COVID FLARE-UPS CONTRASTS WITH HIS 'DESANTIS VARIANT' SLAM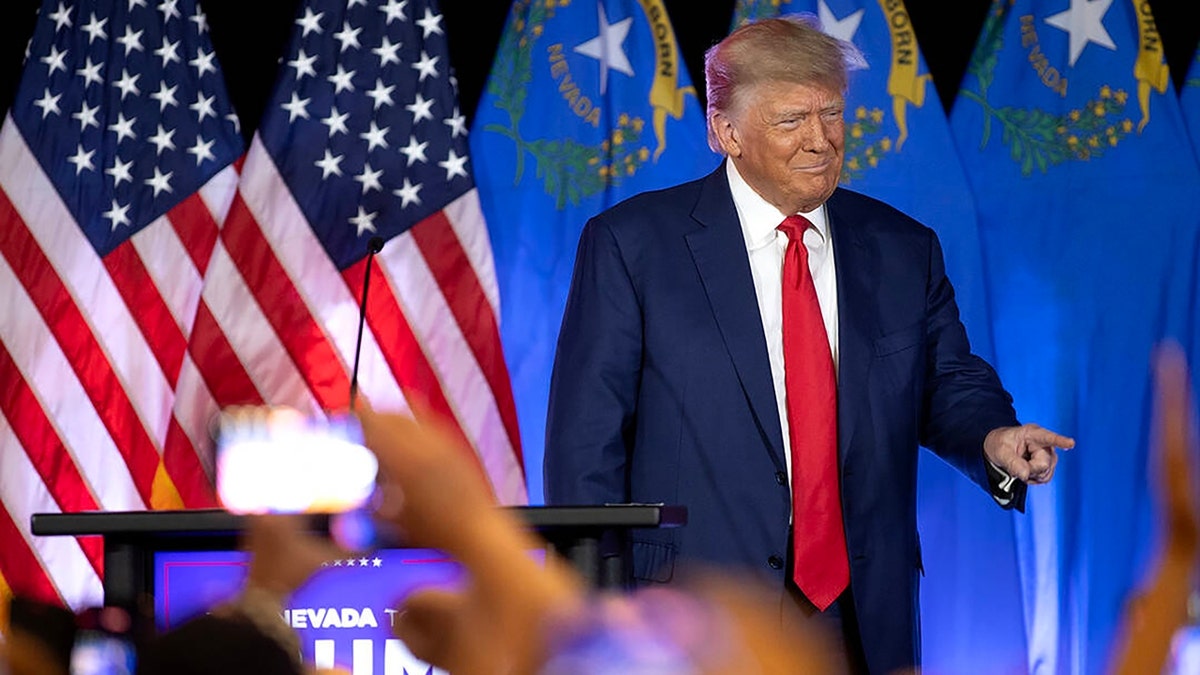 Acosta emerged as a hero of the #Resistance during the Trump administration after making a habit of shouting and interrupting when Trump and members of his administration were available to the media. Acosta also got into combative arguments with other administration members, including former press secretary Sean Spicer, Management and Budget Director Mick Mulvaney and Senior Policy Adviser Stephen Miller.
He also frequently editorialized in his reporting, such as when he scolded Kim Kardashian for being at the White House to discuss prison reform, and accusing Trump of "xenophobia" for his remarks about the Wuhan-based coronavirus. CNN took Acosta off the White House beat in 2021 to coincide with the start of the Biden administration. 
Acosta has since limited the comments under his post celebrating the 2018 incident at the White House.
CLICK HERE TO GET THE FOX NEWS APP
"Sadly, he limited the comments, so he will continue thinking that he is a journalistic hero. The lone voice of dissent during the fascistic rule of Trump. Thank you for your service," one X user sarcastically tweeted in response to the post.
"A true journalist asks the hard questions regardless of political affiliation. Acosta proves himself to be a political hack throughout the Biden administration," another user chimed in.
For more Culture, Media, Education, Opinion, and channel coverage, visit foxnews.com/media.
Fox News' Brian Flood contributed to this report.