DeSantis accepts key Iowa endorsement, says Trump cases show how 'ridiculous' justice system has become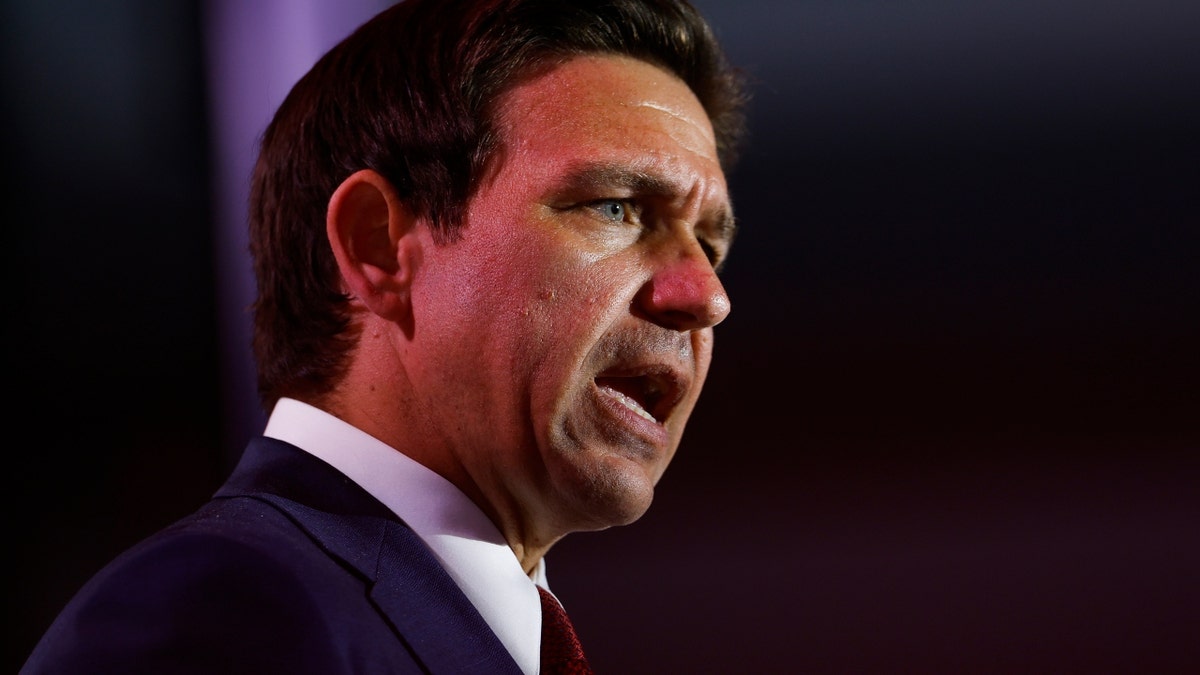 Florida Republican Gov. Ron DeSantis celebrated his acceptance of the endorsement of popular Iowa Gov. Kim Reynolds ahead of the first-in-the-nation caucus next year.
DeSantis said he will also incidentally pay homage to another top Iowa politician when he soon completes the "Full Grassley" – visits to each of the 99 Hawkeye State counties in the same year – a feat popularized by Sen. Charles Grassley, R-Iowa, who has completed it annually since entering the Senate in 1981.
"Kim Reynolds is a very beloved figure in Iowa because she's done a great job. So we've got a lot of excitement," DeSantis said Monday.
"I spend most of my time just talking about my record of accomplishment, my bio and my vision for the future. That ultimately is, I think, what this is all about. We see the country hit the skids. We see the decline across all these indicators," he added on "Hannity."
DESANTIS DEACTIVATES STUDENTS FOR JUSTICE IN PALESTINE
DeSantis said Iowa voters are particularly hardy, in that the caucus system requires them to spend long hours at a site in ice-cold January, rather than a simple few minutes at a primary poll.
He said he is 87 counties through his "Full Grassley" and plans to have a solid ground game ready for caucus night statewide.
"Obviously, when you have somebody like Governor Reynolds, she's committed to campaigning for us and being very active. That is going to help. But it's lining up the people that are going to commit the caucus for you."
Turning to other competitors in the race, DeSantis said former President Donald Trump, who holds a wide lead over DeSantis and South Carolina's Tim Scott and Nikki Haley in the race, has gotten a lot of sympathy from voters over what the Floridian said is indeed unfair treatment by elements of the criminal justice system.
"I think when that Alvin Bragg case came down [in Manhattan], it was just so transparently ridiculous. And to go back seven or eight years [in terms of the charges], clearly this would not have been brought for nonpolitical reasons. And so I think that he got a lot of sympathy, you know, as a result of that, in particular, maybe some of the others, too," he said.
DESANTIS TOUTS ISRAEL EVACUATION EFFORT: FLORIDA 'FILLS THE VOID' AS AMERICANS LAND IN TAMPA
"But I think that one really just showed how ridiculous, quite frankly, the justice system has become when it's in the hands of leftist politicians and leftist activists"
He said that in Iowa, Trump does enjoy a lead, but that there is a large chunk of the electorate that is either undecided or willing to look elsewhere in the GOP field.
He said the true conditions on-the-ground are less solidified than media and polls suggest. 
"I think the majority of Iowans will probably make a final decision as we get into early January. And I'd say the same thing goes for the people of New Hampshire," he said.
DeSantis also keyed into an increasing wariness on the Democratic side over their fait accompli candidate, President Biden, as top Obama-era officials like David Axelrod have been voicing concern over the aging, gaffe-prone incumbent.
While primed to debate California Gov. Gavin Newsom later this month on "Hannity," and observers seeing the left-winger as a potential replacement, DeSantis said the GOP must be ready to pivot to opposing a non-Biden as the election nears.
"They are trying to push Biden out. When you see Obama flunkies out there saying this: That is by design. I mean, that would not be happening without there being direction to that. And so who would they go with?" he said.
"You know, they've got Harris. But Newsom clearly is somebody that's hovering there."
For more Culture, Media, Education, Opinion, and channel coverage, visit foxnews.com/media