Donald Trump testifies in New York civil fraud trial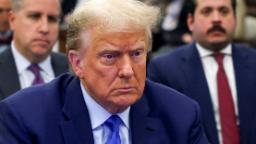 Former President Donald Trump will take the stand Monday to give high-stakes testimony that could help decide the fate of his business empire in New York.
Trump is testifying in the civil fraud trial brought by New York Attorney General Letitia James, who is seeking $250 million in damages and to bar the former president from doing business in the state. James alleges that Trump and his co-defendants committed repeated fraud in inflating assets on financial statements to get better terms on commercial real estate loans and insurance policies.
While there are no criminal charges involved, the allegations have enraged the former president, who has attended the trial for multiple days and attacked it as a political witch hunt.
Judge Arthur Engoron already ruled before the trial began last month that Trump and his co-defendants, including his adult sons, were liable for "persistent and repeated" fraud. Now the judge is considering how much the Trumps will have to pay in damages for the profits they've allegedly garnered through fraudulent business practices.
The attorney general's office is also looking to prove six other claims: falsifying business records, conspiracy to falsify business records, issuing false financial statements, conspiracy to falsify false financial statements, insurance fraud, and conspiracy to commit insurance fraud.
Trump's testimony Monday will be the first chance to see how he responds in the face of hostile questioning, a precursor to the four criminal trials he faces next year as he campaigns to regain the presidency.
The trial is not televised, but Trump's appearance on the witness stand will mark arguably the highest-profile moment of his 2024 presidential campaign – a campaign in which Trump has repeatedly cited his own legal peril as a key reason voters should return him to the White House.
Here's what to watch on Monday – and what's at stake for Trump.


news/trump-civil-fraud-trial-11-06-23/index.html">Source link