Ex-Trump Education official calls on Biden to probe federal funds to colleges allowing antisemitism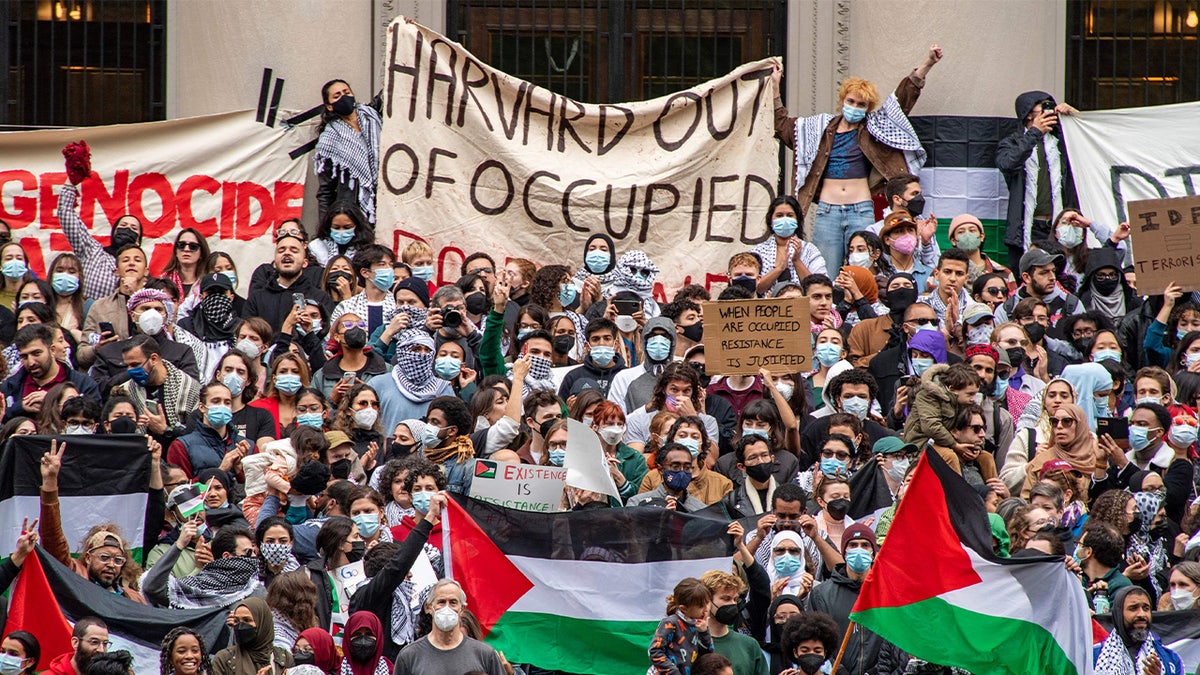 A top former Trump administration official told FOX News on Saturday that the Department of Education has the power to investigate the conduct of colleges where antisemitic and/or pro-Hamas protests are occurring, and where Jewish students have felt threatened.
Kenneth Marcus, the founder of the Brandeis Center for Human Rights Under Law, told "Life, Liberty & Levin" it is incumbent upon President Biden and Secretary Miguel Cardona to make sure no taxpayer funds are even indirectly facilitating the spread of hate on-campus.
Host Mark Levin said the Education Department can try to ensure or force proper behavior while not suppressing free speech.
Marcus noted authorities have not been shy about condemning or blocking causes of simpler "microaggressions" and said taxpayers must be comfortable in their belief that on-campus intimidation and hate is not being fueled by their own monies.
BLACK FORMER MISS ISRAEL TEARS INTO BLM FOR PALESTINIAN SUPPORT
"That is the whole purpose for why we have an agency called OCR [USDOE Office of Civil Rights]. That's the agency that I formerly ran. And its sole obligation is to make sure that federal funds are not used to support discriminatory behavior," he said.
"It does this on a whole host of other issues. It needs to do it with antisemitism."
Marcus said the Biden administration has signaled it is welcoming but waiting for complaints to be filed in that respect. But, he added his organization, the Brandeis Center, are or will be filing complaints – though that Cardona doesn't have to wait for public pressure to audit the situation himself.
"Anytime he turns on the television or opens a newspaper and sees what's going on… then he's got to know that his Education Department funds are going to support these activities, and it has to stop," Marcus said.
DESANTIS TOUTS FLORIDA'S ISRAEL EVACUATION EFFORTS
Marcus called the angry protests and pro-Palestinian demonstrations that have happened at places like Columbia University and MIT "unlike anything that we have seen in the United States." 
Some officials at the state level like Florida Gov. Ron DeSantis have taken action against such groups that hold the protests. In his case, the governor "deactivated" state chapters of Students for Justice in Palestine.
"We have campuses that can deal with the tiniest of microaggressions: real or perceived," said Marcus. "But when there are actual macroaggressions, they're not dealing with it."
"These universities are all getting federal funds, and the U.S. Department of Education's Office for Civil Rights — which I formerly led during the Trump administration — has an obligation to make sure that taxpayer money is not being used to subsidize this sort of gross antisemitism."
He underlined that the feds have the power to investigate the conduct of the schools, not necessarily the speech itself under First Amendment protections.
But, just like with other campus groups that are antagonistic toward other groups, antisemitic entities can be treated the same way by administrators, he concluded.
CLICK HERE TO GET THE FOX NEWS APP 
For more Culture, Media, Education, Opinion and channel coverage, visit foxnews.com/media.