Fox News Poll: Support for Trump hits 62% in GOP primary
This is one of three Fox News Polls released Wednesday. See results of Fox News' polling on the Israel-Hamas war here and Americans' support for Ukraine here.
While the 2024 presidential election still looks most likely to be a nail-biter, the two primary contests are currently blowouts. 
Former President Donald Trump leads the GOP nomination race with the backing of a record 62% of Republican primary voters in a new Fox News survey. That translates to a roughly 50-point gap between Trump and Ron DeSantis (14%), and Nikki Haley (11%). Vivek Ramaswamy (7%), Chris Christie (3%), and Asa Hutchinson (1%) trail even further. 
BLACK VOTERS SAY THEY'RE TURNING AWAY FROM 'WEAK' BIDEN IN 2024: 'HE DIDN'T CHANGE ANYTHING'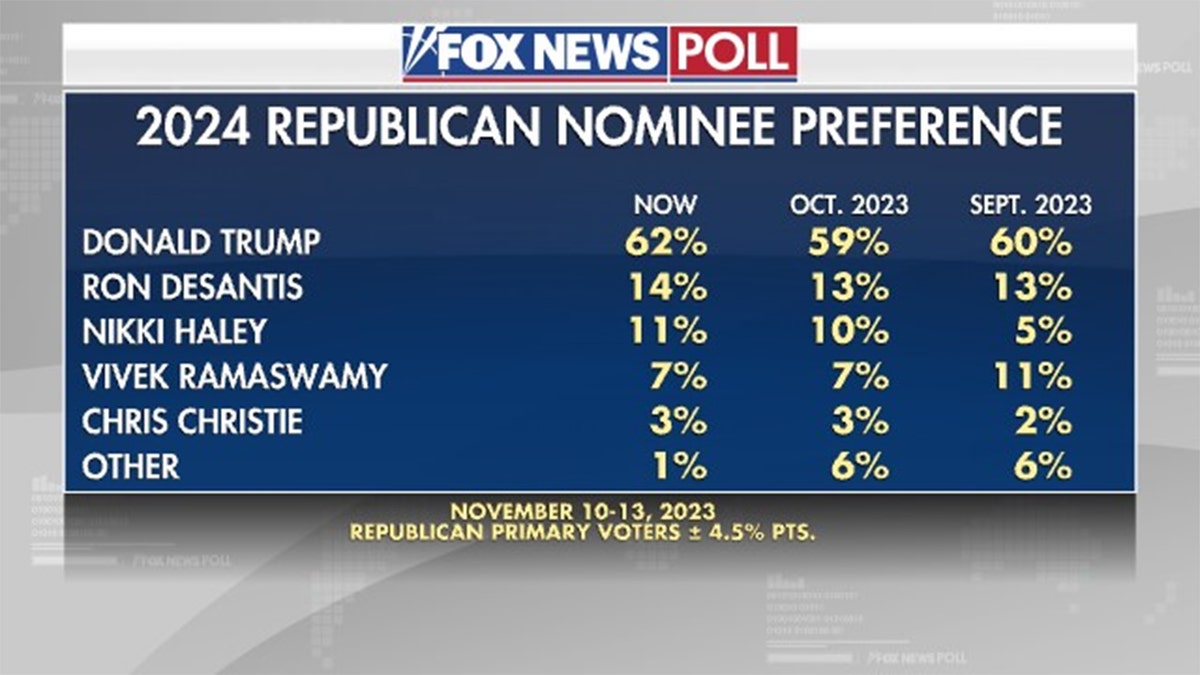 Sen. Tim Scott suspended his campaign mid-survey, so the 3% he received was reallocated to his supporters' second-choice candidates. Before that reallocation, DeSantis was 13% and Haley 10%. In addition to Scott, others exiting since the October Fox News survey include Larry Elder, Will Hurd, Perry Johnson, and Mike Pence — but these departures failed to change the race given how little backing they had.
Among Democratic primary voters, President Joe Biden leads with 72%, well ahead of Marianne Williamson (13%) and newly announced Minnesota Rep. Dean Phillips (3%).
Yet Biden's job performance rating stands at 40% approve and 59% disapprove. That matches his record low from July 2022. More than twice as many "strongly" disapprove (43%) as "strongly" approve (17%). Last month, 41% approved and 58% disapproved.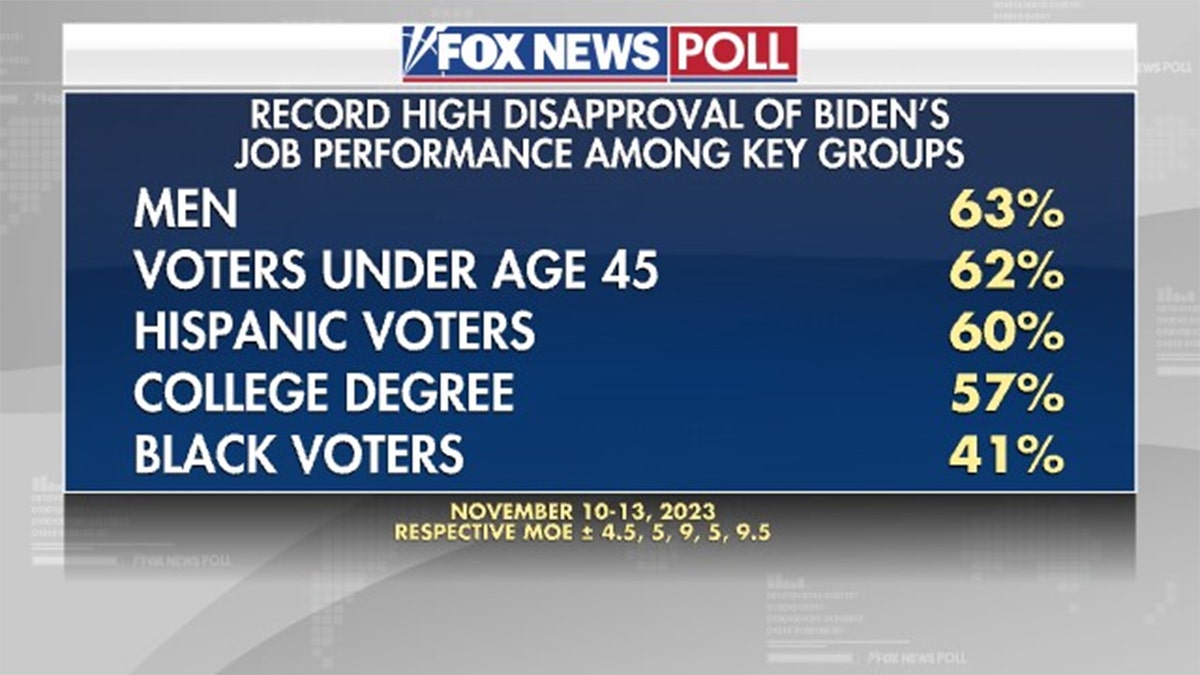 Disapproval of Biden is at all-time highs among men (63%), voters under age 45 (62%), Hispanics (60%), voters with a college degree (57%), and Black voters (41%). Most of these groups are key to his re-election, yet they may be open to an alternative — just look at Haley's inroads below.
Biden's ratings spell electoral trouble as he's currently behind the Republican in each of the matchups tested.
Trump (50-46%) and DeSantis (50-45%) have statistically insignificant 4 and 5-point advantages over Biden. Last month, Biden was up by 1 point over Trump and trailed DeSantis by just 2.
Meanwhile, Haley has an 11-point lead against Biden (52-41%), an improvement on her 4-point edge last month.
WITH 9 WEEKS TO GO UNTIL THE FIRST VOTES, TRUMP REMAINS COMMANDING FRONT-RUNNER AS GOP FIELD KEEPS SHRINKING
Haley's margin against Biden is better than Trump's among groups Democrats need to hold the White House: women, voters under age 30 and those 65 and over, independents, college graduates, moderates, and suburban women. She leads Biden among independents by 43 points compared to Trump's 16-point advantage. Among college graduates, Biden's 5-point edge over Trump becomes a 9-point deficit against Haley.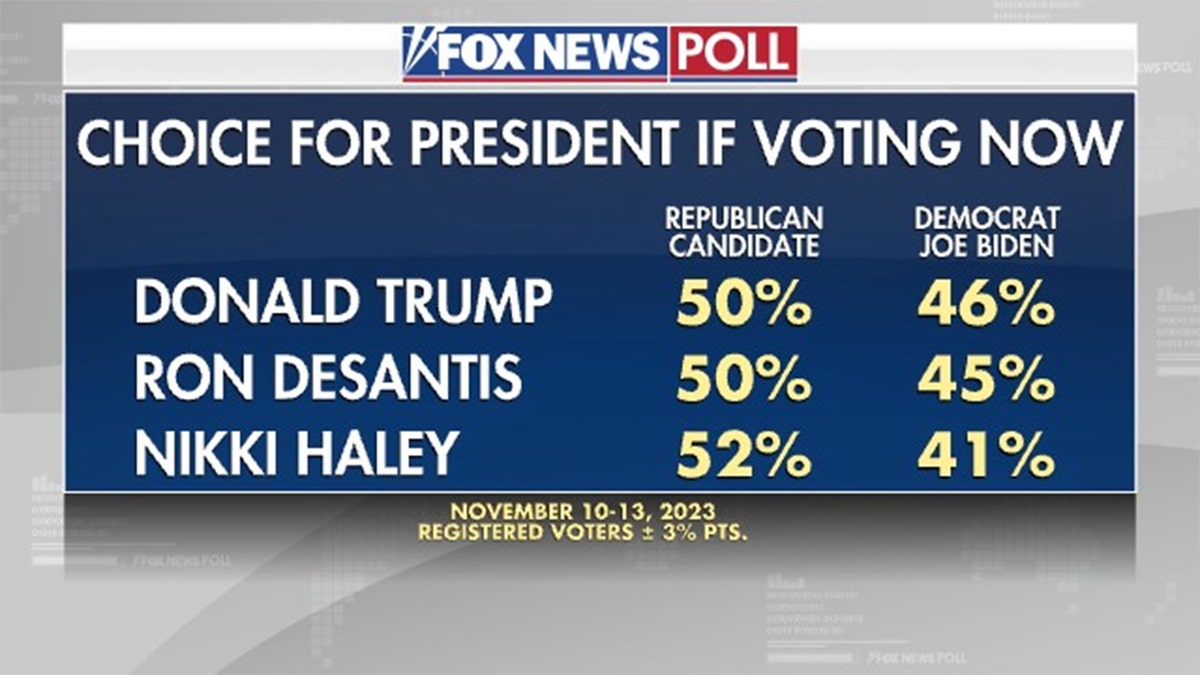 "None of our previous data have shown an electability edge, on either side" says Republican Daron Shaw, who conducts the Fox News survey with Democrat Chris Anderson. "But in this poll, at this time, Haley can make the case she is best positioned to win back the White House."
The question for Haley remains whether that's enough to move her out of third place in the nomination race.
One notable number for Trump: he hits 50% against Biden, which he's previously never done in a Fox News survey going back to October 2015.
Plus, Trump receives record support among groups Biden needs to win re-election. Compared to the final Fox News pre-election matchup in October 2020, Trump has made gains among independents (up 21 points), Blacks (+15), Hispanics (+13), suburban voters (+8), and men (+4). 
MANCHIN DOESN'T RULE OUT LEAVING DEMOCRATIC PARTY, 2024 INDEPENDENT BID FOR PRESIDENT: 'DON'T KNOW WHAT I AM'
Despite Biden's low approval, other Democrats tested in head-to-heads against Trump don't really do any better, at most improving on the president's marks by a couple of points. 
Trump's advantage is within the survey's margin of sampling error in hypothetical ballots against Kamala Harris (Trump +5 points), California Gov. Gavin Newsom (+4), Michigan Gov. Gretchen Whitmer (+2), and West Virginia Sen. Joe Manchin (+1).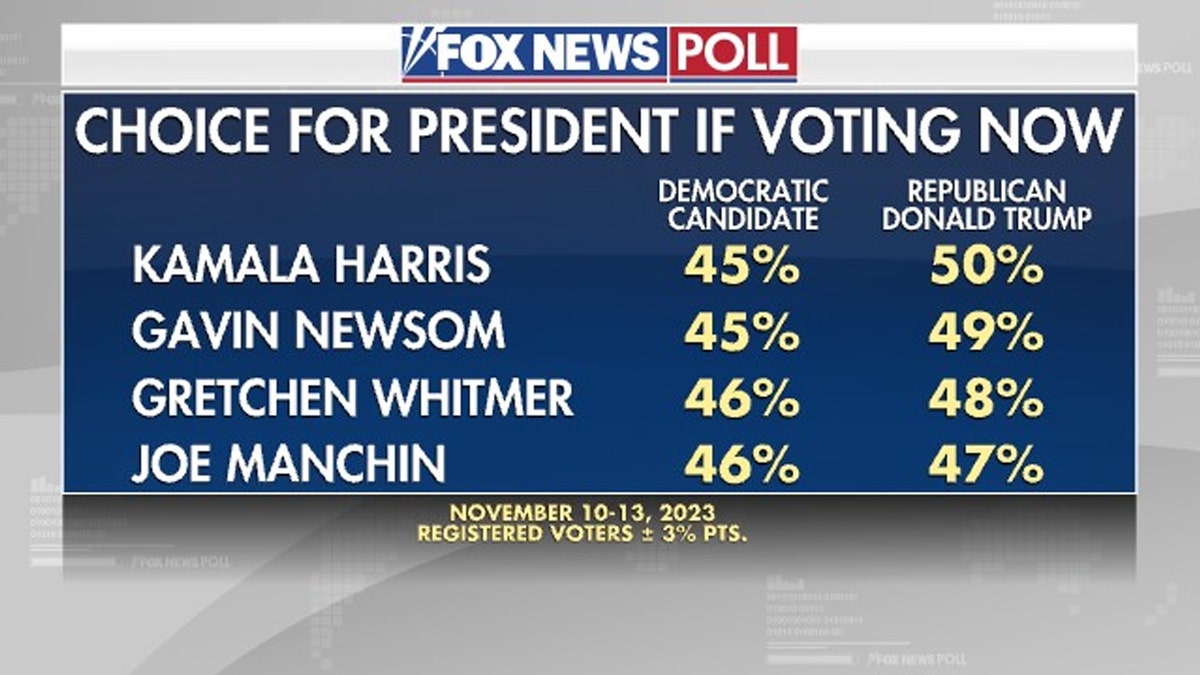 This is the first time the poll offers potential five-way presidential ballots, and finds that while third-party candidates receive substantial support, they hurt Biden and Trump about equally.
Biden garners 35% to Trump's 41%, while independent candidate Robert F. Kennedy, Jr. takes 15%, and independent candidate Cornel West and Green Party candidate Jill Stein get 3% each.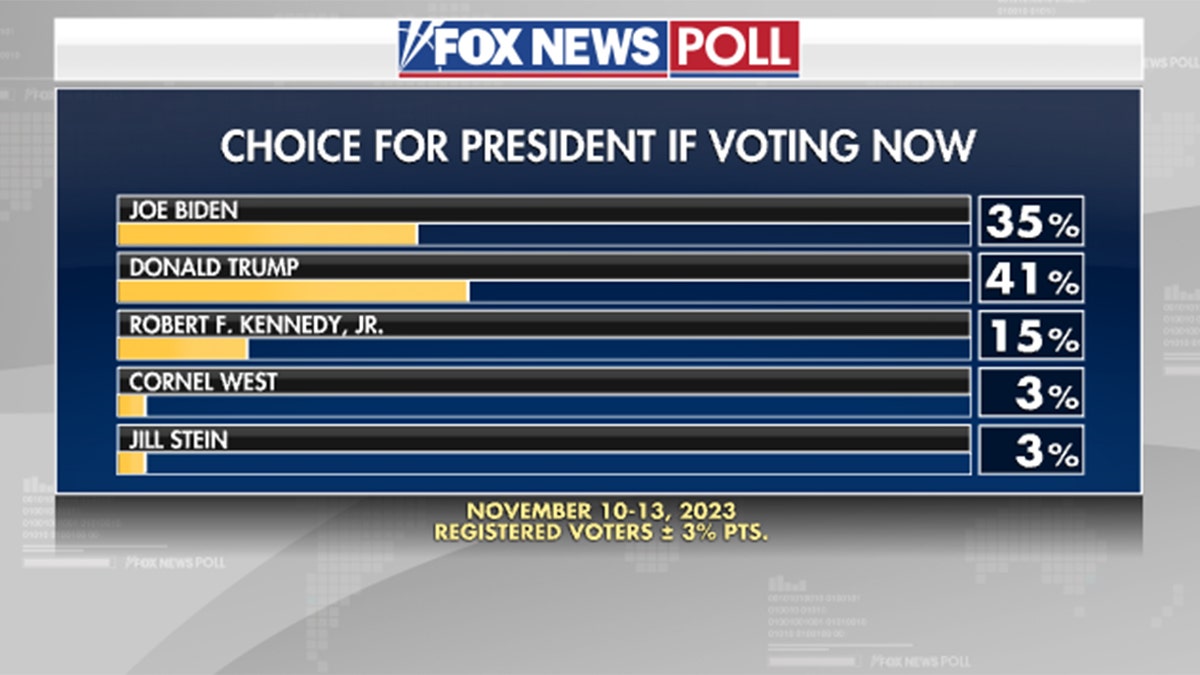 The race looks about the same when Joe Manchin is included instead of West. In that scenario, it's Biden 35%, Trump 40%, Kennedy 13%, Manchin 5%, and Stein 4%.
In both cases, 76% of Democrats back Biden and 78% of Republicans support Trump. 
"While most people have understandably been focused on how third-party options affect the major party candidates, the level of support itself is notable," says Shaw. "More than one voter in five is currently going rogue — more than for Ross Perot in 1992, John Anderson in 1980, or George Wallace in 1968. It's a clear indictment with the leading Republican and Democratic candidates."
Poll-pourri
Thirty-nine percent of voters say they are more likely to participate in the Democratic primary/ caucus in their state next year and 45% say the Republican primary. That 6-point gap is the widest seen all year.  
Trump's personal favorability rating is under water by 12 points (44% favorable vs. 56% unfavorable). Still, that's his most positive in over a year. Biden is in negative territory by an even larger 18 points, 41%-59%. That's unchanged since September. Voters with unfavorable views of both Biden and Trump split their support (Biden 40% vs. Trump 43%). 
More Republicans (64%) than Democrats (59%) say they are "extremely" interested in the 2024 presidential election, which makes sense because the only action is on the GOP side with the primary race. When "extremely" and "very" are combined, equal numbers of Republicans (84%) and Democrats (83%) are interested.
Vice President Kamala Harris gets her worst marks yet, as 38% approve and 59% disapprove of the job she's doing.
CLICK HERE FOR TOPLINES AND CROSSTABS
Conducted November 10-13, 2023, under the joint direction of Beacon Research (D) and Shaw & Company Research (R), this Fox News Poll includes interviews with 1,001 registered voters nationwide who were randomly selected from a voter file and spoke with live interviewers on both landlines and cellphones. The poll has a margin of sampling error of plus or minus 3 percentage points for all registered voters, and plus or minus 5 points for Democratic primary voters and 4.5 points for Republican primary voters.
Fox News' Victoria Balara contributed to this report.