Laura Loomer attacks Riley Gaines over Trump and DeSantis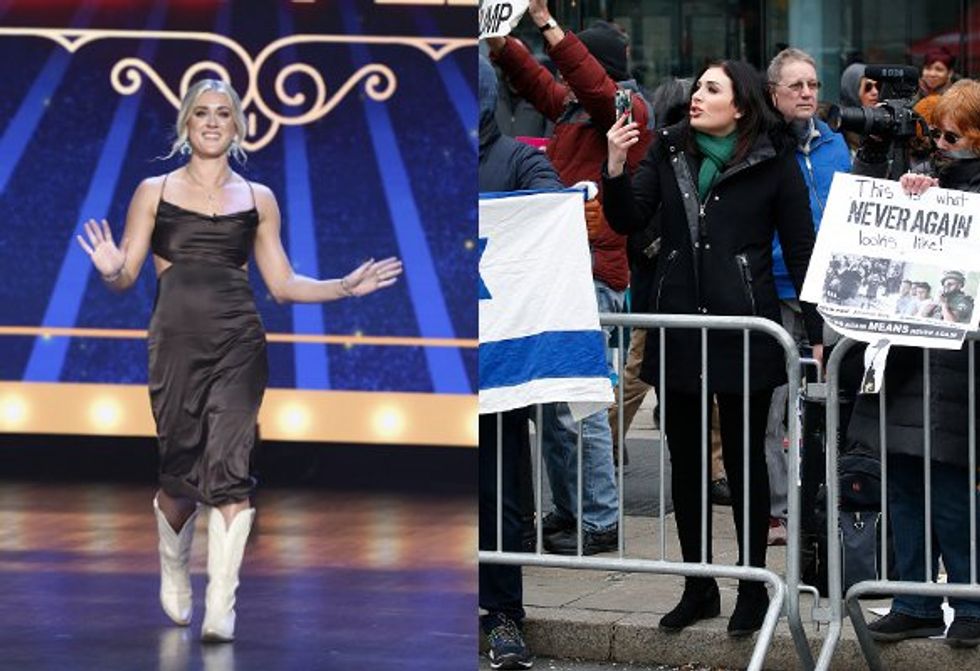 Journalist Laura Loomer is accused of doxxing women's sports advocate Riley Gaines. The former NCAA swimmer fired back at the journalist who has been a vocal mouthpiece for the Trump campaign.
On Friday morning, Loomer posted a message on the X social media platform alleging that Gaines was paid by the campaign team for Florida Gov. Ron DeSantis.
The post — which has since been deleted — read: "In June 2023, Riley announced that she was endorsing DeSantis over Trump. FEC records show that she was paid out on 8/02/2023 for endorsing Ron."
Loomer — a diehard fanatic of former President Donald Trump — then went on to verbally attack Gaines for gaining popularity after being one of the few athletes to speak out against transgender swimmer Lia Thomas.
"Riley, you have had a long run, pretending to be a victim after you got beat by a man," Loomer said in the since-deleted tweet. "But, now you have turned your victimhood into deception and financial gain, and sadly, someone along the way hypnotized you into believing that you are a political expert."
"Let me tell you the truth. You aren't, and you should stick to swimming," Loomer told Gaines on social media.
"Riley, your 15 minutes of fame are over," Loomer continued. "We get it, a transgender beat you. Life isn't fair. You're not the only woman to get a rough deal in life."
Also in the post to her more than 670,000 followers, Loomer published the address of Gaines with a screenshot of a Federal Election Commission document on the social media network previously known as Twitter.
In response to the personal attack, Gaines roared back at the journalist by saying, "Your 'investigative skills' must not be as good as you constantly tout. This was posted Oct. 19 by the Boston Globe. Plus, it wasn't a secret anyway."
The Boston Globe article states that the DeSantis campaign paid Gaines "nearly $12,000" in early August for "surrogate and coalition work." The outlet noted that there had not been any other payments as of Oct. 19.
The 12-time All-American swimmer who won five SEC titles said on social media, "I joined DeSantis in South Carolina for an event earlier this year and was compensated for my time. That's how it works."
The former University of Kentucky swimmer pointed out, "Who's gonna tell her I was also offered a paid spot by Trump's team prior?"
"Cry harder that you kiss his butt for free," she wrote. "And if Trump wins the primary, I'll be all in, because this country needs fiscal, social, and foreign policy conservative leadership. It doesn't take a rocket scientist to see that."
Gaines stressed that she is "not in the business of caring whether one person/a base 'likes me' when our country and freedoms are at stake."
"Let it be remembered that Laura Loomer said girl's and women's safety, privacy, and opportunities aren't that important," Riley declared. "To her, being 'loyal' to a man who barely knows she exists takes precedent."
Regarding publishing her address on social media, Gaines told Loomer, "And as for posting my address (even if it is public record) when it could've easily been blacked out, that's low even for someone with as little class as you."
Gaines admitted she was not a "political expert," but did remind Loomer that she lost both times she ran for office in Florida.
Loomer denied she doxxed Gaines, adding that FEC documents are public records.
"Posting publicly available FEC documents that are PUBLIC RECORDS and of public interest in a presidential election year is not 'doxxing,'" Loomer said.
Loomer did delete the original tweet with the address.
"However, I posted a new image with the address blacked out even though it's already public on the FEC site and has been for months since Riley decided to sell her voice to the Ron DeSantis campaign," Loomer wrote. "That is not doxxing. The FEC database exists for the sake of transparency in US elections."
Loomer continued to rant on social media and badmouthed Gaines.
Loomer called Gaines a "low IQ sell out bimbo" and a "dumb b*tch."
Many X users accused Loomer of doxxing Gaines and called on Elon Musk to take action.
Former Trump attorney Jenna Ellis: "Trump surrogate Laura Loomer is now calling Riley Gaines a ' bimbo' and doxxing her address. Elon Musk should rightly ban her for doxxing. Will the Trump camp have enough decency to denounce and distance from her? Trump surrogate comes out in favor of men beating women in sports… simply because a woman supports a different political candidate. This is disgusting and completely on brand."
News commentator Oli London: "Prominent women's rights activist @Riley_Gaines_ has been made a target of radical extreme trans activists tonight after influencer Laura Loomer released her address on Twitter. She knows full well thousands of trans activists will see it. She knows full well she is putting Riley at risk. Just because Riley's details may be on FEC records it does not make it right for someone with such a large platform to share it- knowing the consequences it has on the young woman's safety. This is morally wrong and dangerous and women like Riley deserve to feel safe and able to speak up for women and girls without the fear of extreme trans activists turning up at their house."
Last week, Donald Trump Jr. proclaimed that he would "love to see" Loomer as his father's White House press secretary if Donald Trump gets re-elected.
"She's a bulldog, man, I will say that. She gets after it. I'd love to see her as press secretary just to watch D.C. just explode," Trump Jr. said.
Like Blaze News? Bypass the censors, sign up for our newsletters, and get stories like this direct to your inbox. Sign up here!