Peter Doocy makes KJP look silly after she tries to gaslight Americans about economy, blame Trump for economic woes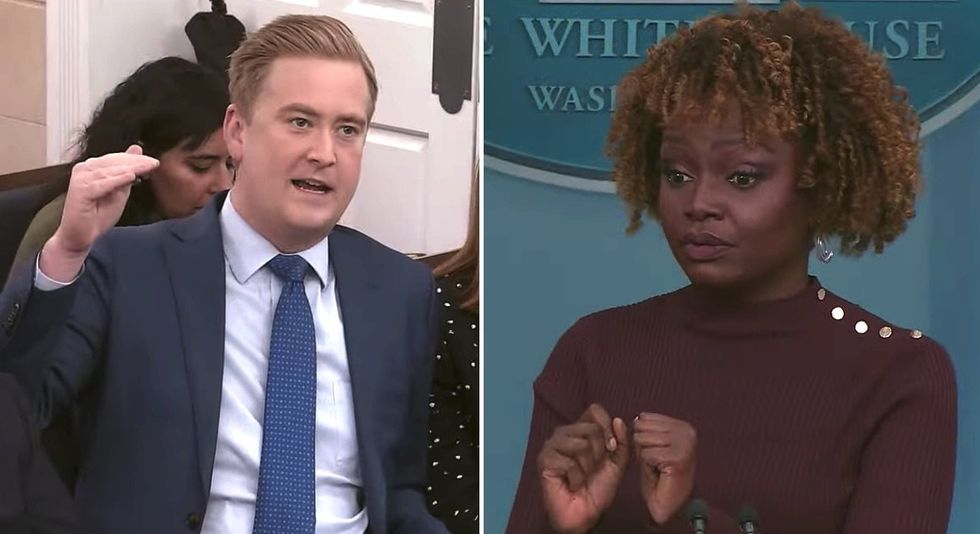 Fox News correspondent Peter Doocy exposed on Monday the hole in the Biden administration's narrative that the economy is doing great because of President Joe Biden.
The number-one issue Americans are concerned about, polls show, is the economy. Those same polls have shown that the "Bidenomics" message — the Biden administration's attempt to gaslight Americans about the state of the economy — completely flopped with voters. Whatever Biden is trying to sell, most Americans aren't buying.
At the White House press briefing, press secretary Karine Jean-Pierre claimed "the data" shows the economy is "improving" and that "households remain in a strong financial position." And for any economic woes that may exist, she blamed Trump for those.
After Jean-Pierre dodged his initial questions and regurgitated her trite narative, Doocy finally had enough and confronted her with the facts.
"Almost three years in office, inflation is up over 17% since President Biden came here. And you're saying that's still Trump's fault?" Doocy asked.
Jean-Pierre claimed in response that "inflation is moderating because of the actions that this president has taken," forcing Doocy to highlight the significance of her admission.
"Doesn't that just mean that prices are going up slower?" he observed. "They're still high."
Facts on the table, Jean-Pierre tried to deny reality. She claimed "prices are going down," pointing to the cost of turkey and gas. She attributed those purported deceases to "the actions that this president has taken."
Unfortunately, Jean-Pierre did not specify a single action that Biden has taken to drive down prices as she claimed. Additionally, the price of turkey has decreased compared to last year, but according to the American Farm Bureau Federation, a "decrease in avian influenza cases and the resulting recovery in the turkey flock" are responsible for the decease — not anything Biden has done.
Meanwhile, inflation has improved from its alarming highs last year, but it's still above the Federal Reserve's targeted rate of 2%.
That means, as Doocy pointed out, prices are not going down as Jean-Pierre claimed; they are simply going up slower today compared to last year.
11/27/23: Press Briefing by Press Secretary Karine Jean-Pierre and John Kirbywww.youtube.com
Like Blaze News? Bypass the censors, sign up for our newsletters, and get stories like this direct to your inbox. Sign up here!