Pro-Trump Byron Donalds and DeSantis backer Chip Roy face off, vow to unite to take on 'radical leftists'
House Freedom Caucus members Chip Roy, R-Texas, and Byron Donalds, R-Fla., agree on most issues, yet they disagree on the 2024 Republican nomination for president.
Roy, who endorsed Florida Gov. Ron DeSantis, and Donalds, who endorsed former President Donald Trump, joined "Jesse Watters Primetime" to discuss their picks and why they plan to come together in 2024 regardless to "take on the radical leftist agenda."
"We're demonstrating that you can disagree on choosing who you're going to support in a primary and then come together, and we're going to do that next year to take on the radical leftist agenda," said Roy. 
FIRST ON FOX: RON DESANTIS OFFICIALLY LAUNCHES 2024 PRESIDENTIAL CAMPAIGN WITH 'GREAT AMERICAN COMEBACK' VIDEO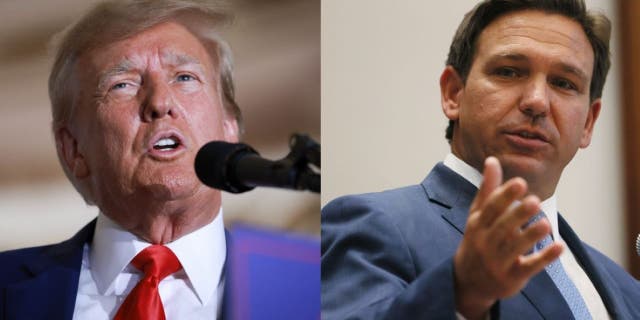 Roy explained his reasoning for endorsing DeSantis because of how he has led Florida and his ability to gain supporters.  
"Governor DeSantis has an extraordinary track record," Roy said. 
Roy downplayed the glitches that plagued Elon Musk's Twitter Spaces, where DeSantis officially announced his candidacy. 
"I think it's a great problem to have almost a million people crashing the Internet. I'd rather have that problem than have no one show up at an event in Iowa and then blame it on the weather." 
"Governor DeSantis has proven that he's got a track record that works and the American people are following," said Roy. "He won by a million and a half votes in Florida, 62% of Hispanic voters. He won about 50% of single female voters."
However, Donalds said DeSantis is a successful governor because of the accomplishments of President Trump. 
"Ron DeSantis has a great record. I'm a citizen of Florida. I represent the state. But at the end of the day, all of his accomplishments, especially if you want to talk about the abortion ban, are not possible without the presidency of Donald Trump."
"It took somebody to come to Washington and have the courage of his convictions, to look this machine, this swamp in the face and say, no, there's a better way. It took somebody to actually show all Republicans how you needed to have a spine strong enough to stand up to the media and to the Democrats up here on Capitol Hill." 
Donalds is also endorsing Trump because of his track record as president. 
"Donald Trump has done this job. He did this job in an exemplary fashion. And to be totally blunt, if it wasn't for collusion that we're now seeing in the FBI, colluding against his own administration when he was the commander in chief, his administration would have been even better for the American people. He's done the job once. We know he can do the job again."
Roy applauded DeSantis for taking on Disney and standing up for conservative principles in Congress before Trump came on the scene. 
"Governor DeSantis, he's providing the leadership that the American people are sorely missing. … He helped start the Freedom Caucus, the same Freedom Caucus that Byron and I are part of, standing up to the establishment." 
Donalds also agreed with Roy on the need for the GOP to unite after Republican voters choose their nominee.
DeSantis' announcement was mired by repeated technical glitches on Twitter on Wednesday evening in a black eye for the social media platform.
The highly-anticipated announcement, set to be made via a conversation with Twitter CEO Elon Musk and tech entrepreneur David Sacks on Twitter's "Spaces" feature, was delayed as it appeared the platform was overwhelmed. Twitter's mobile app repeatedly crashed and users complained that they were unable to hear the broadcast.
Nearly 700,000 users logged in to hear the announcement roughly 20 minutes after it was launched. The event was then abruptly shut down without explanation. DeSantis then explained his campaign agenda in an interview with Fox News' Trey Gowdy Wednesday night.
CLICK HERE TO GET THE FOX NEWS APP
Fox News' Thomas Catenacci contributed to this report.