Robert De Niro botches speech, bashes Trump, then lashes out at those he was there to thank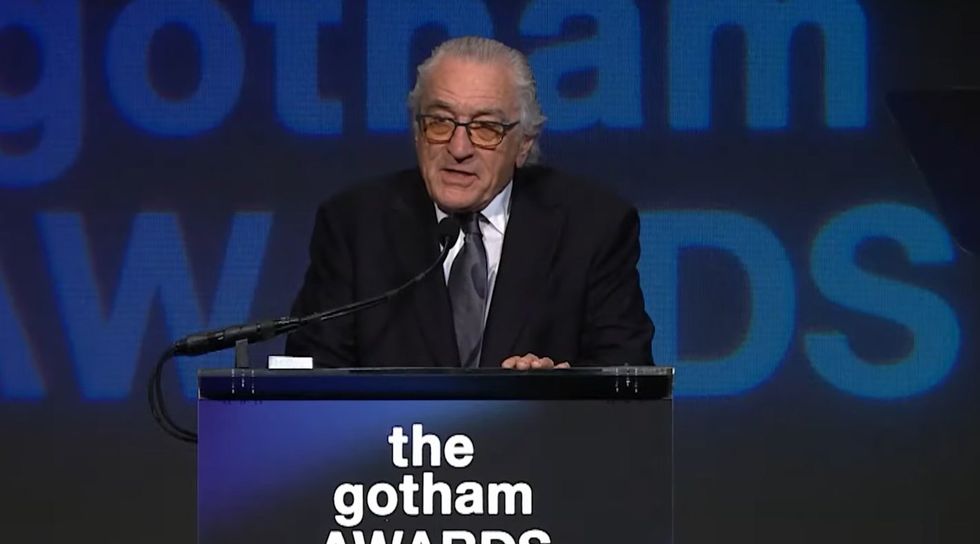 Robert De Niro was supposed to do what he does best Monday night when taking the stage at the Gotham Awards in New York City: read off a script, celebrate his own work, and glad-hand with Hollywood elites. Instead, he botched his remarks, reflexively attacked former President Donald Trump, and expressed contempt for those he was supposed to thank.
The Oscar-winning script reader introduced the Gotham Historical Icon and Creator Tribute award for Martin Scorsese's new film, "Killers of the Flower Moon," in which he stars alongside Leonardo DiCaprio.
Relying upon a teleprompter, De Niro, long a Hollywood proponent of the debunked Russian collusion narrative, said: "Watching the news these days makes one think, from a political point of view anyway, that we actually are living in a post-truth society. Filmmakers, on the other hand, at least aim for the truth."
"We have no agenda other than to engage, enlighten and entertain," continued De Niro, who previously stressed to propagandist Michael Moore that the former president needed to be humiliated and revealed to Stephen Colbert his desire to star in a favorable film about disgraced former New York Gov. Andrew Cuomo (D).
After setting up filmmakers as neutral paragons of virtue, the octogenarian began to grow visibly confused, slurring words and stumbling through his delivery.
Vanity Fair reported that in a portion of the speech De Niro delivered, which appears to have been trimmed out of the video posted to the Gotham Film and Media Institute YouTube page, De Niro paused to say, "I'm sorry. Okay, there was a mistake in this. I'll keep going. Just keep scrolling."
Later, De Niro circled back to account for his apparent difficulty in reading off the teleprompter, saying, "I just want to say one thing. The beginning of my speech was edited, cut out. I didn't know about it and I want to read it."
De Niro then launched into a tirade denouncing "alternative facts" and "conspiracy theories."
Besides suggesting that "young students are taught that slaves developed skills which could be applied for their personal benefit" in Florida and denigrating the late anti-communist actor John Wayne, De Niro returned to an old crutch — criticizing Trump.
"The former president lied to us more than 30,000 times during his four years in office, and he's keeping up the pace in his current campaign of retribution," said De Niro, just minutes after discounting the possibility that those in his industry have an agenda to advance. "But with all his lies, he can't hide his soul. He attacks the weak, destroys the gifts of nature, and shows disrespect, for example, by using Pocahontas as a slur."
Trump has in recent years referred to Democratic Sen Elizabeth Warren (Mass.) as "Pocahontas" because she, along with various other leftists including Buffy Sainte-Marie, Sacheen Littlefeather, and Hollywood producer Heather Rae long benefited from pretending to be Indian.
Rediscovering the point in his speech where he previously choked, De Niro said, "So I'm gonna say these things, but to Apple and thank them and all that, Gotham, blah, blah, blah, Apple, but who — I don't feel like thanking them at all for what they did. How dare they do that actually."
The film, which Variety indicated would be "branded a flop" if treated as a traditional studio release on account of its failure to yet become profitable, is an Apple Studios production distributed in part through Apple TV+.
Neither Apple nor the Gotham Awards appear to have responded to Vanity Fair's requests for comment.
"KILLERS OF THE FLOWER MOON" Receives The Gotham Historical Icon & Creator Tributeyoutu.be
Like Blaze News? Bypass the censors, sign up for our newsletters, and get stories like this direct to your inbox. Sign up here!