Trump holds commanding lead over DeSantis, Haley, with 50 days until Iowa caucuses
As he aims for an upset victory in Iowa's Republican presidential caucuses, Florida Gov. Ron DeSantis is days away from reaching his goal of stopping in all 99 counties in the Hawkeye State.
The DeSantis campaign says the governor will make his final stop this upcoming Saturday in Jasper County. 
DeSantis is hoping to follow in the footsteps of former Arkansas Gov. Mike Huckabee (2008), former Pennsylvania Sen. Rick Santorum (2012) and Texas Sen. Ted Cruz (2016), who stopped in all 99 counties en route to Iowa caucus victories.
"We're going to win here. We have what it takes," DeSantis pledged in a recent Fox News Digital interview in Des Moines, Iowa.
However, DeSantis is currently battling former ambassador to the United Nations and former South Carolina Gov. Nikki Haley for second place in the latest GOP presidential nomination polls in Iowa, far behind former President Trump. The former president remains the commanding Republican front-runner in Iowa, the other early voting states, and in national surveys, as he makes his third straight bid for the White House.
"There are ONLY 50 DAYS LEFT until the very first vote is cast in the 2024 election," Trump wrote in a fundraising email to supporters this past weekend. "If we completely DOMINATE the Iowa Caucus, then we can emerge as the Presumptive Nominee for President on January 15, 2024."
Trump has made history as the first former or current president to be indicted for a crime, but his four indictments – including in federal court in Washington, D.C., and in Fulton County court in Georgia on charges he tried to overturn his 2020 presidential election loss – have only fueled his support among Republican voters.
The former president returns to Iowa this weekend, and his campaign is ramping up their ad buys in the final weeks ahead of the caucuses.
GAME ON IN IOWA AS DESANTIS AND HALEY BATTLE FOR SECOND PLACE BEHIND TRUMP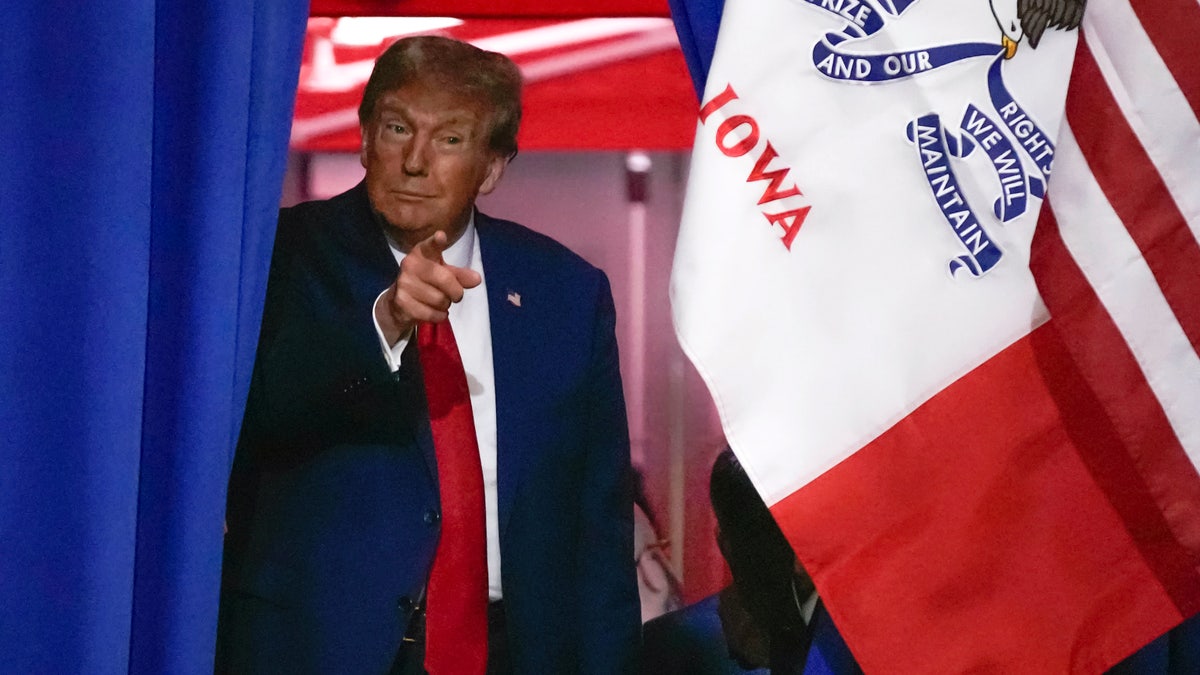 While Trump has held nearly 20 events in Iowa this year, the Florida governor has made roughly 130 stops, with many of those hosted by the DeSantis-aligned super PAC Never Back Down. Additionally, the super PAC has spent millions to put together a formidable ground game in Iowa.
DeSantis also grabbed the high-profile endorsement earlier this month of Gov. Kim Reynolds, who remains very popular with Iowa Republicans. Last week, he won the backing of Bob Vander Plaats, the president and CEO of The Family Leader, an influential social conservative organization in a state where evangelical voters play an outsized role in Republican politics.
WILL ENDORSEMENT FROM INFLUENTIAL EVANGELICAL LEADER BOOST DESANTIS IN IOWA?
"To have so many members of the Iowa legislature, to have the governor, and then to have Bob and his network. That's going to be a pretty powerful machine," DeSantis told reporters last week. "I think that these first two states are going to totally upend the conventional wisdom."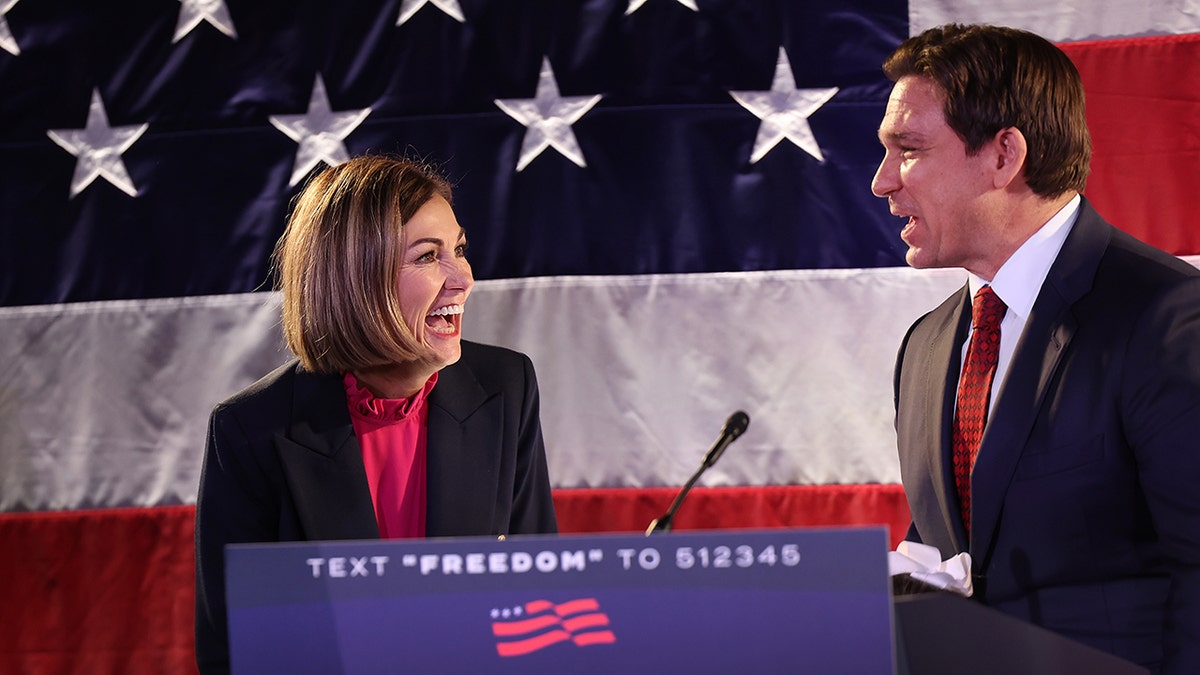 However, what once appeared to be a two-candidate fight for the GOP nomination is now a three-way battle.
Haley, who has enjoyed momentum in the polls in recent months, thanks in part to well-received performances in the first three GOP presidential primary debates, has leapfrogged DeSantis for second place in New Hampshire – which holds the first primary and votes second in the Republican nominating schedule – and her home state – which holds the first southern contest.
DESANTIS, HALEY, RAMASWAMY, GET PERSONAL AS THEY SIT SIDE-BY-SIDE
Now, she aims to make a fight of it in Iowa, where she is pulling even with DeSantis in some of the latest polls.
"The momentum is real. The excitement is there. We're going to keep working hard to win every Iowan's vote. We're not going to give up on Iowa," Haley touted in a Fox News Digital interview ahead of a recent town hall in Newton, Iowa.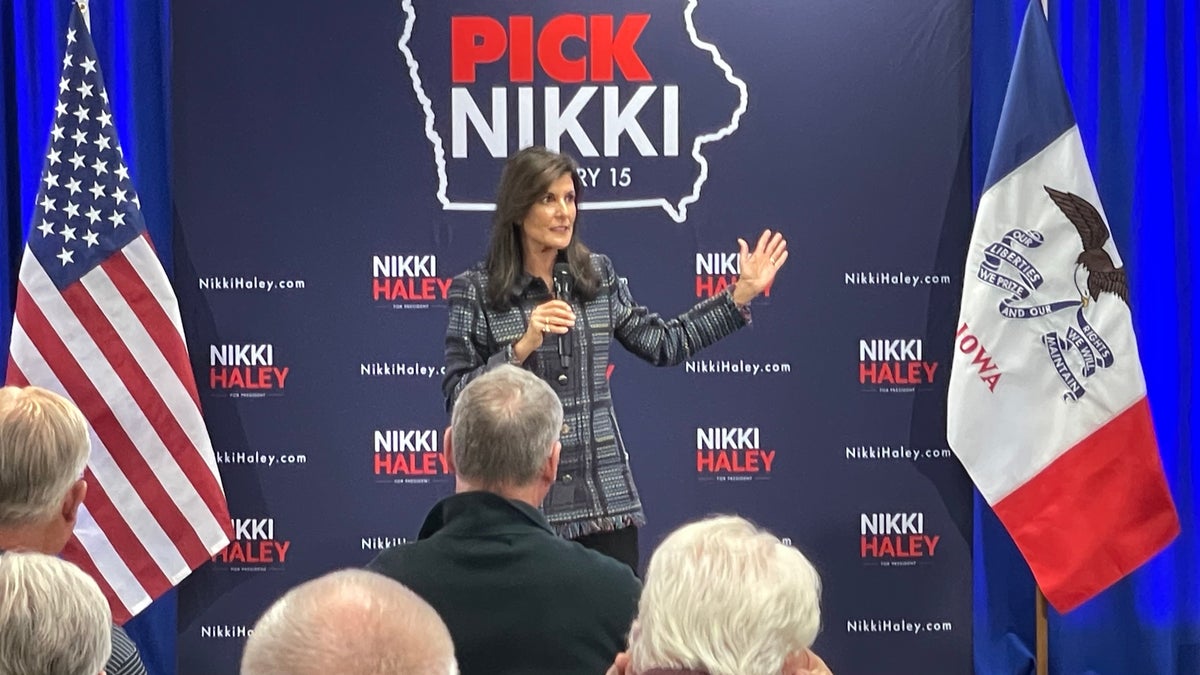 Haley returned to Iowa on her most recent swing, showcasing over 70 new Hawkeye State endorsements. She is set to launch a $10 million ad blitz in Iowa and New Hampshire on Dec. 1.
While it appears to be a three-person race in Iowa, there are other candidates campaigning in the state, who are all registered in the single digits.
Multimillionaire biotech entrepreneur and first time candidate Vivek Ramaswamy is basing his campaign in Iowa for the final stretch, as he barnstorms across the state. 
CLICK HERE TO GET THE FOX NEWS APP 
North Dakota Gov. Doug Burgum, who failed to make the stage at the third GOP presidential primary debate, is also spending plenty of time in Iowa.
Former New Jersey Gov. Chris Christie, who is running for the White House a second time, is avoiding Iowa as he once again concentrates much of his firepower in New Hampshire.
Former Arkansas Gov. Asa Hutchinson, who registering at less than 1% in the polls, also remains in the race.
As the first contest on the GOP presidential nominating calendar, Iowa always plays a crucial role in winnowing the field.
"I think Iowa's going to be more determinative than ever as to who's going to have momentum going into New Hampshire and South Carolina," longtime Republican strategist David Kochel predicted.
Kochel, a veteran of numerous presidential and statewide campaigns in Iowa, emphasized that "Trump already has a ticket. There's maybe two more and maybe one more" coming out of Iowa."
Get the latest updates from the 2024 campaign trail, exclusive interviews and more at our Fox News Digital election hub.