Trump says opponents in GOP debate 'not watchable'
Former President Donald Trump blasted his GOP opponents who took to the stage for the third 2024 debate Wednesday as "not watchable." 
"Our nation is in very serious trouble, and it's time for the Republican establishment to stop wasting time and resources trying to push weak and ineffective RINOs and never-Trumpers that nobody wants and nobody's going to vote for," Trump said at a rally in Hialeah, Florida, Wednesday held to compete with the third Republican debate hosted by NBC News in Miami.
"They're not watchable you know, the last debate was the lowest rated debate in the history of politics. So therefore, do you think we did the right thing by not participating?" Trump said, evoking cheers. "Somebody, said, oh, one of the dumber ones, 'he doesn't have the courage to stand up.' Well, listen, I'm standing in front of tens of thousands of people right now, and it's on television. That's a hell of a lot harder to than a debate. That's a hell of a lot harder." 
Trump, who had also opted out of the first and second GOP debates of the 2024 cycle hosted by Fox News and Fox Business, respectively, told supporters "2024 is our final battle."
IVANKA TRUMP TESTIFIES SHE WAS NOT INVOLVED IN DISCUSSIONS ABOUT HER FATHER'S FINANCIAL STATEMENTS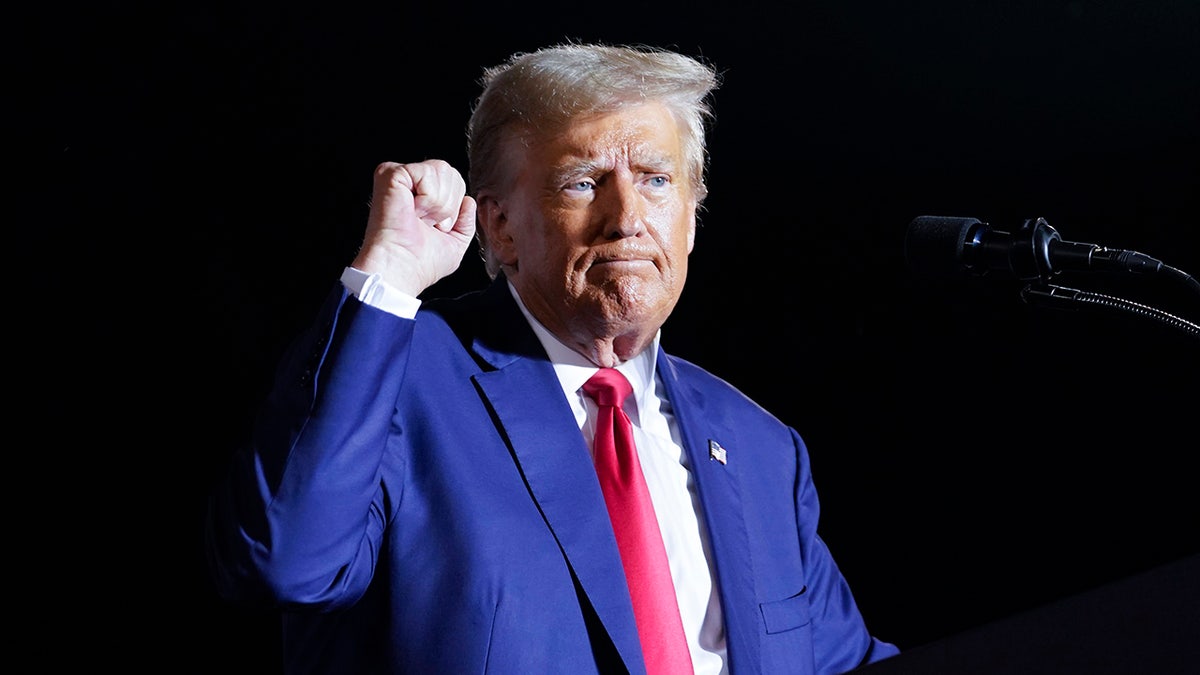 "This race is not just about beating crooked Joe, it's about defeating the entire rotten, corrupt and tyrannical establishment," Trump told the crowd Wednesday night. "This election will decide whether power in America belongs to them forever or whether it belongs to you. The men and women who make this country great, who make this country run. 2024 is our final battle. Stand with me and the fight. We will finish the job that we started so brilliantly seven years ago." 
The former president and current GOP front-runner also took swipes at President Biden's repeated public falls and stumbles, also said the globe has never been closer to World War III. 
"You know, I would say standing up here in this beautiful podium, you know, a podium where these stairs are not obvious enough, Biden could never get off now. But think of it. Here's a guy who can't find or figure out a way to get off a stage with about five sets of stairs," Trump said. "He can't put two sentences together, and he's in charge of our nuclear talks."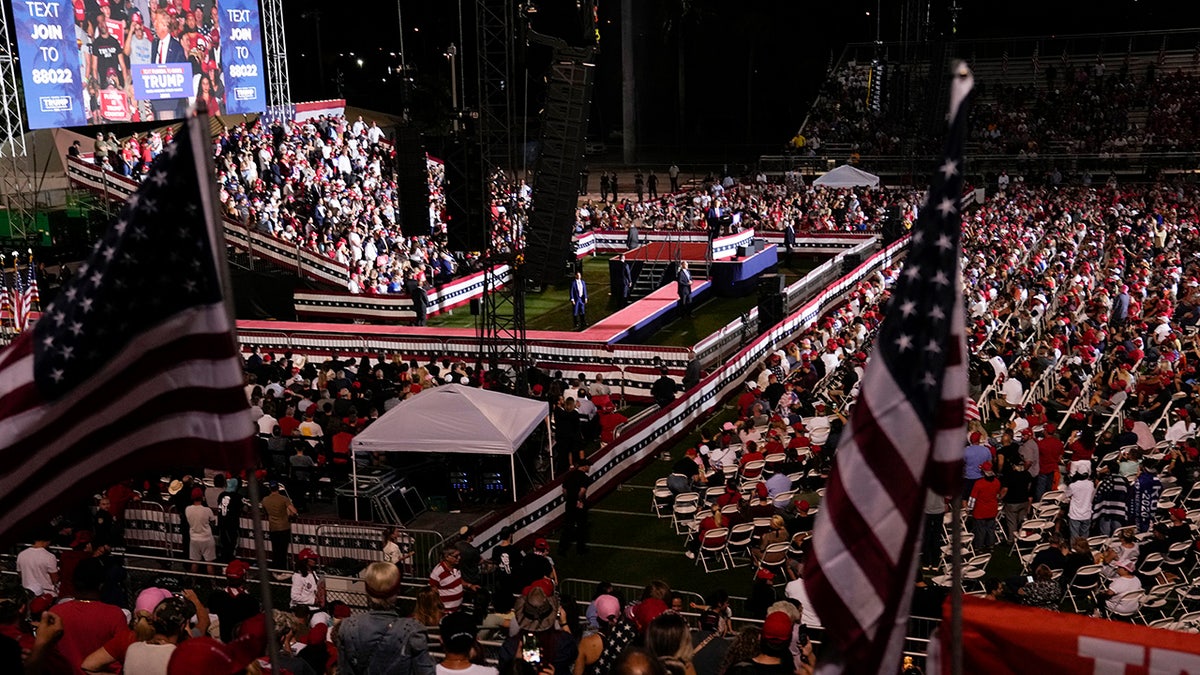 GOP DEBATE: HALEY TAKES INCOMING FIRE AS PRESIDENTIAL CANDIDATES BATTLE FOR 2ND PLACE BEHIND TRUMP
"This is the closest we've ever been to World War III," Trump said. "This is the closest. And I hope that one's wrong. And that's not a prediction, because I would never make that prediction. It's too horrible a thing to say. But we have never been closer to World War III and only for one reason. We have incompetent people talking on our behalf."
"When you deal with China, President Xi and North Korea, Kim Jong Un and Russia, Putin you deal with all these people," Trump continued. "The press hates when I say they're smart. He said they were smart. Well, what am I supposed to say? They're stupid people? Kim Jong Un leads 1.4 billion people. And there's no doubt about who the boss is. And they want me to say he's not an intelligent man. They get very personal when I say that because they're fake news."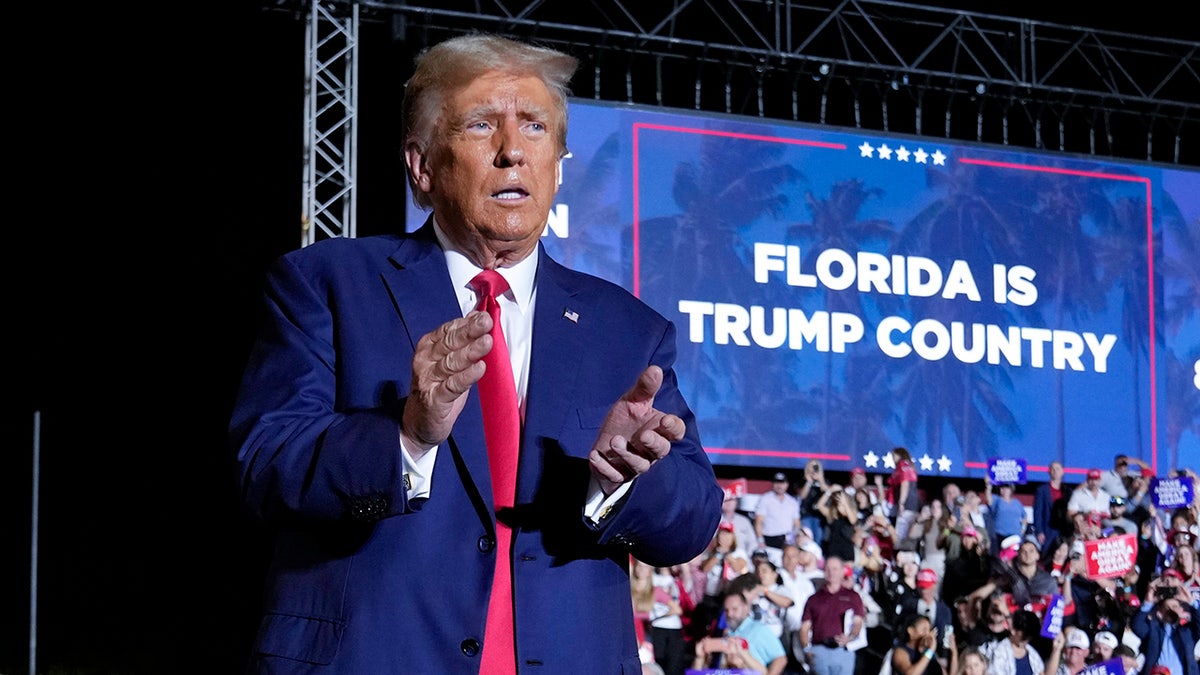 Trump also talked about leading battleground states in recent polling. Addressing recent pro-Palestinian demonstrations and Antisemitic incidents at major U.S. universities in the wake of the Israel-Hamas war, told supporters on Wednesday "you can't afford to have a president who wants to be politically correct" and vowed he would "quickly cancel the student visas of all Hamas sympathizers on college campuses, which have been infested with radicalism like never before college campuses."